imaging
Medical imaging is an efficient tool for the diagnosis of diseases and finding suitable treatments, and in cancer patients, evaluation of the disease progression and follow-up of the effect of treatment method.
The Imaging Unit of Behboud hospital is equipped with the best and most advanced imaging equipment that help the doctors in diagnosis of diseases. This center is trying to improve the patients' satisfaction by providing 24-hour services completely and carefully in the fields of medical imaging in radiology, CT Scan, MRI, sonography and mammography departments.
One of the unique features of the Behboud Hospital Imaging Unit is the employment of the modern imaging devices with advanced options. Also, this center is one of the centers that fully perform all imaging protocols.
MRI
The 1.5 Tesla MRI machine used in Behboud hospital has a patient entrance tunnel with a diameter of 70 cm and the ability to remove sound in the brain protocols . Ability to accept patients weighing up to 200 kg and has a variety of coils for all organs and with high resolution, This device has the necessary facilities to remove motor and metal artifacts and it is possible to perform angiography without injection and imaging or very small FOV with high resolution, 3D imaging and calculating the amount of fat and iron accumulated in the liver. In this section, it is also possible to perform MRI under anesthesia for children (by flexible coils) and people who for some reason are not able to perform MRI in the conscious state. This department is active every day from 8 am to 12 pm and the report will be delivered to the patient as soon as possible without delay. (Contact number: 31551520)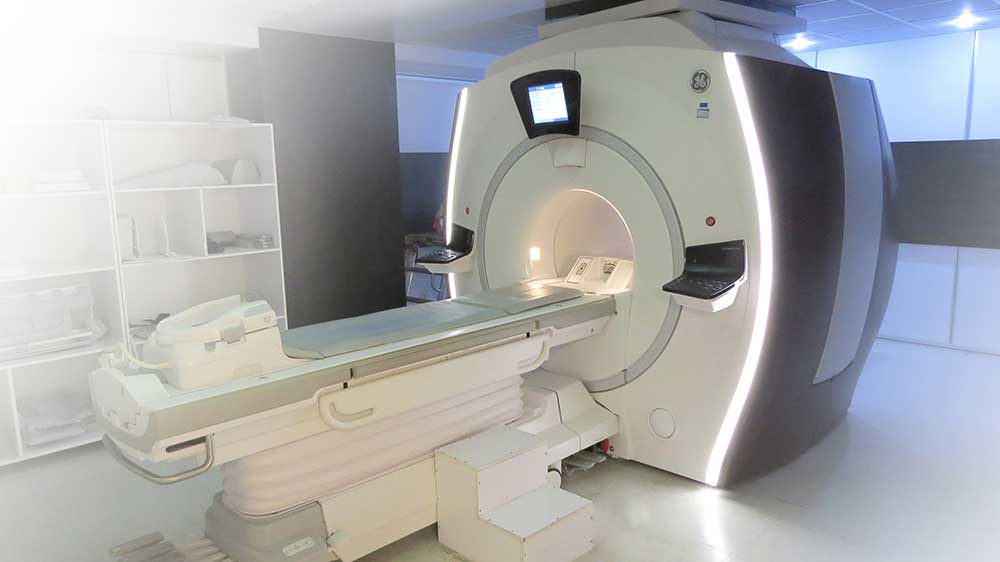 CT اسکن
The CT scan machine used in Behboud hospital is a spiral type and provides all kinds of services requested by patients with unlimited admission capacity every day.. The 8-slice CT scanner is made in the United States and is capable of performing CT scans without weight restrictions. This department is very active and the stencil is performed immediately at the request of the patient and the report is provided to the patient within 24 hours. The radiologists in this department have completed advanced courses in this system and are among the best radiologists in their group. It is active every day from 8 am to 12 pm . (Contact number: 31551325)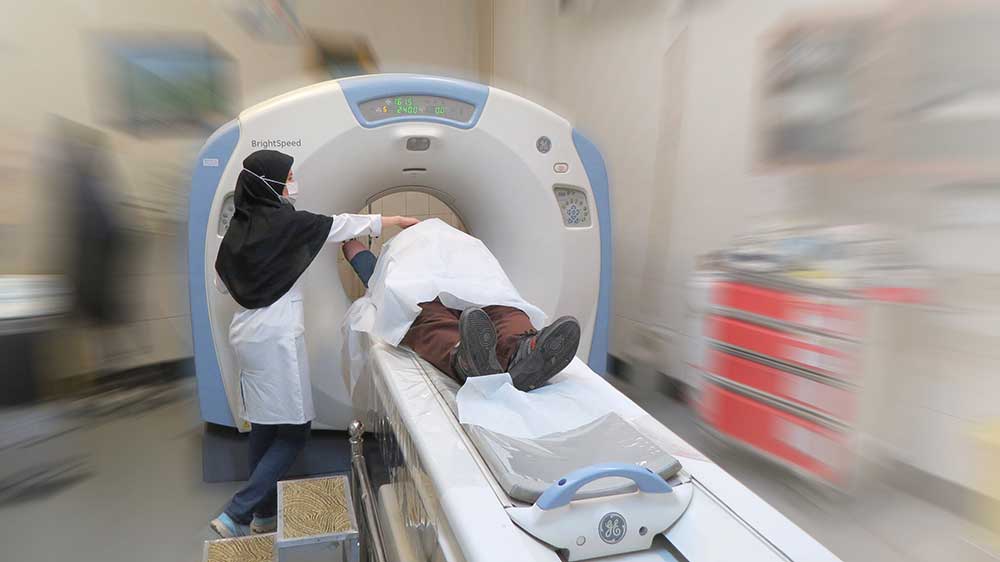 دستگاه سنجش تراکم استخوان  ( BMD)
این دستگاه ساخت کارخانه هولوژیک میباشد  . پوکی  و نرمی استخوان از مشکلات رایج در میان ایرانیان دارای سن بیش از 30 سال است . اگر این بیماری خاموش به موقع تشخیص داده شود حتی بعد از شکستگی هم می توان بیماری را درمان کرد . خوشبختانی امروزه روشهای خوبی در دسترس مردم است . دستگاه سنجش تراکم استخوان این امکان را فراهم می سازد که با تشخیص به موقع از شکستگی استخوان ها بر اثر بیماری پوکی استخوان جلوگیری کرد .این بخش در شیفت صبح و عصر فعال می باشد . ( شماره تماس : 31551326)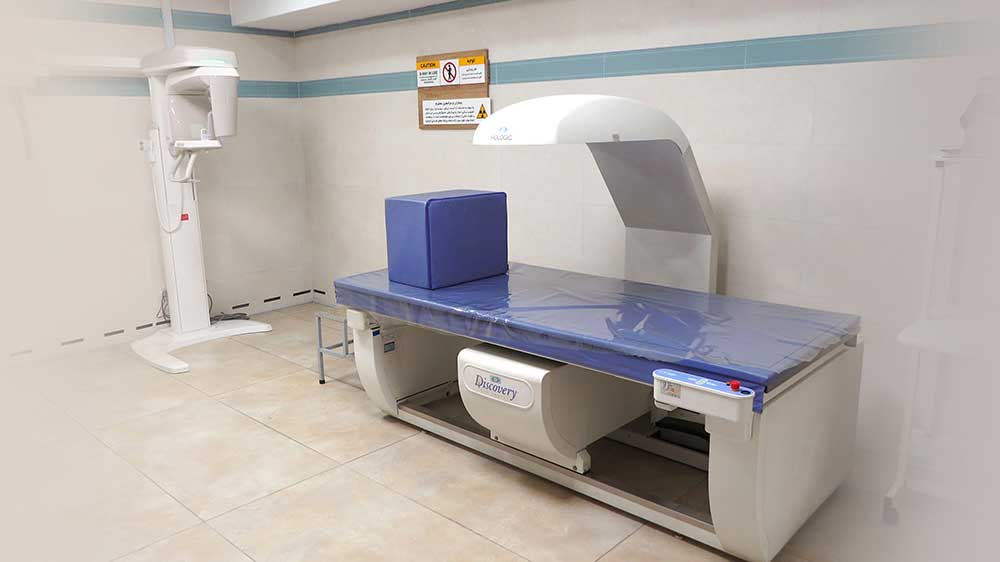 سونوگرافی  
این بخش یکی از فعالترین بخش های رادیولوژی میباشد که در شیفت های صبح و عصر بطور همزمان چند رادیولوژیست  ( خانم و آقا ) به انجام سونوگرافی بیماران می پردازند .
در این بخش انواع سونوگرافی های ساده و رنگی ( داپلر ) و همچنین سونوگرافی های ترانس واژینال و ترانس رکتال  توسط متخصصین رادیولوژی و سونوگرافی در شیفت های صبح و عصر انجام می گیرد . همچنین نمونه برداری از پستان ها و تیرویید تحت گاید سونوگرافی انجام می شود . سیستم های این بخش دائما" بهینه سازی شده و آپشن های دستگاه ها هر روز کاملتر می شود . تعدادی از دستگاه های سونوگرافی به آپشن الاستوگرافی که در تشخیص توده های پستانی خیلی دقیق هستند مجهز می باشد . ( شماره تماس : 31551530)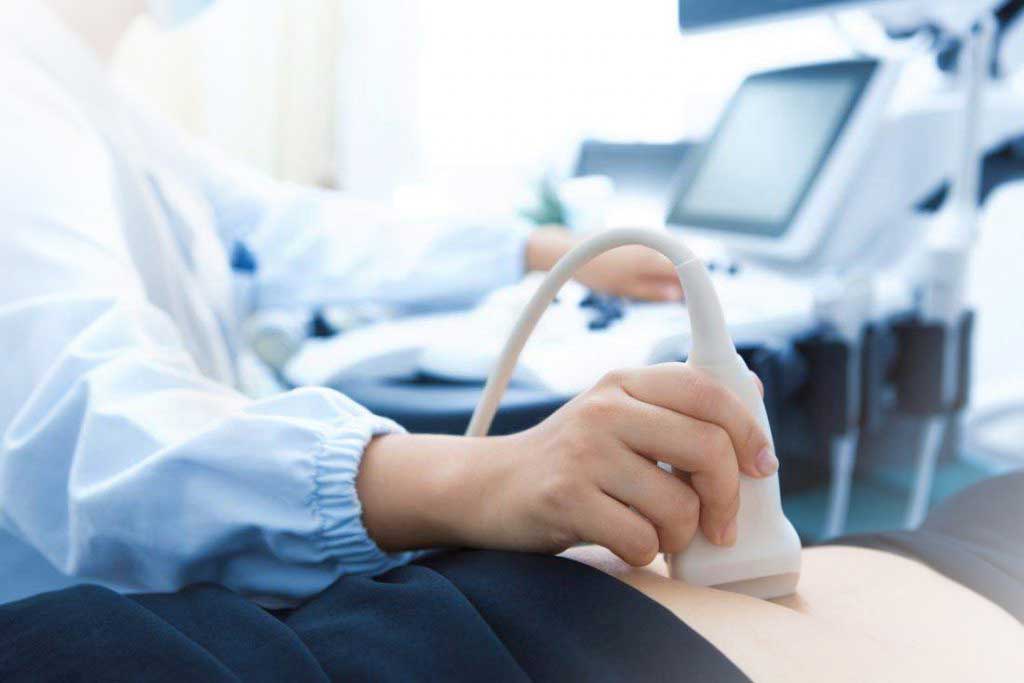 ماموگرافی دیجیتالی
این دستگاه ساخت کارخانه هولوژیک آمریکا بوده و قادر به تصویربرداری بدون محدودیت در سایز سینه ها با کمترین پرتودهی و با وضوح بالا در شیفت های صبح و عصر  دایر می باشد  .  و دقت دستگاه در مقایسه با دستگاه های مشابه خیلی بالا بوده و رضایت پزشکان ارجاع دهنده را همیشه در پی دارد . (شماره تماس : 31551327)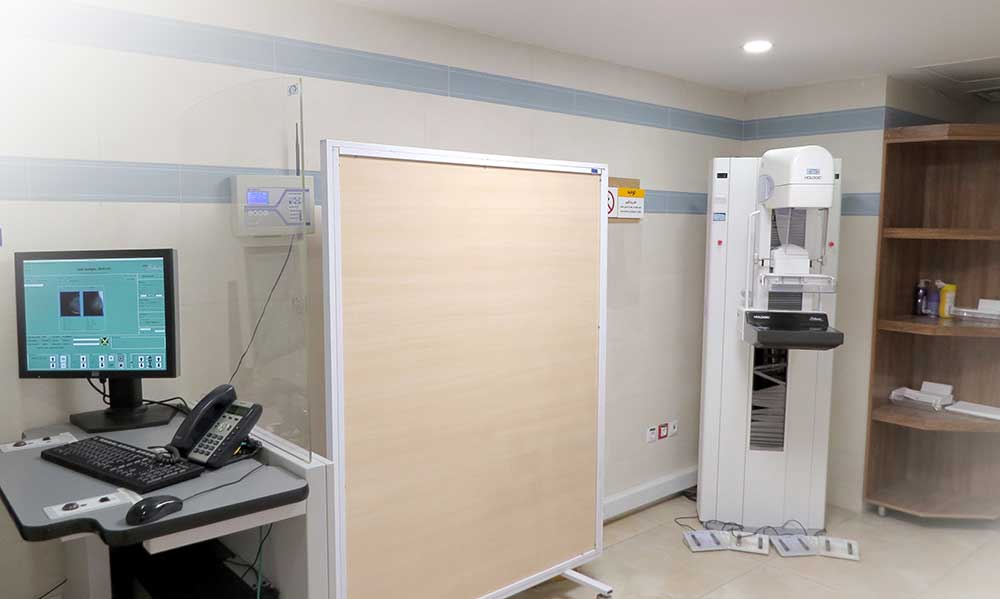 رادیولوژی دیجیتال
دستگاه  رادیوگرافی پیشرفته این بخش از نوع دیجیتال با مارک استفانیکس و ساخت کشور فرانسه میباشد  . کلیه گرافی های ساده  و رنگی، بدون محدودیت وزنی – تله متریک ستون فقرات – تله متریک اندام ها – هیستروسالپنگوگرافی  بدون درد ( رادیوگرافی رنگی رحم و لوله های رحمی)  انجام می گیرد. انجام کلیه رادیوگرافی ها بدون تعیین وقت قبلی رپورت های آنها حداقل بفاصله یک ساعت به بیمار تحویل داده میشود  . این بخش بصورت شبانه روزی و حتی در روزهای تعطیل  دایر میباشد . (شماره تماس  : 31551322  )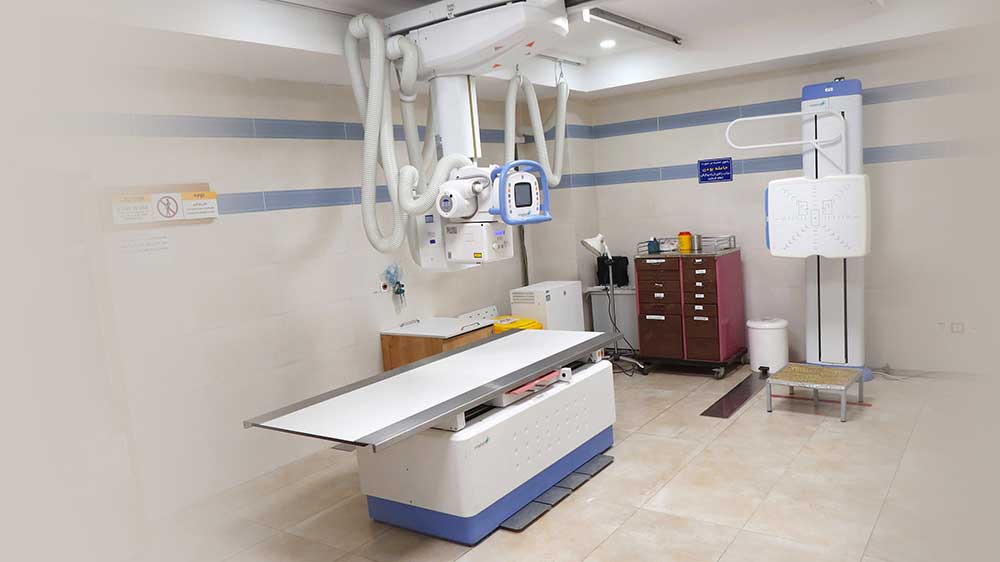 رادیوگرافی پرتابل  در منزل
این دستگاه  ساخت کارخانه GE  بوده و این امکان را فراهم می سازد در بیمارانی که به دلایلی نمی توانند به بیمارستان تشریف بیاورند ، تصویربرداری بوسیله دستگاه پرتابل در منزل انجام می پذیرد و چاپ آنها بصورت دیجیتالی همراه با گزارش در اسرع وقت به بیماران تحویل داده می شود .
پانورامیک  ( OPG ) و سفالومتری
 کلیه گرافیهای لازم در رابطه با فک و صورت و دندانپزشکی در این واحد بصورت دیجیتال انجام می گیرد .دستگاه آن ساخت کارخانه Vatech  کشور کره بوده و بصورت دیجیتالی انجام گرفته و نتیجه آن بلافاصله به بیمار تحویل داده می شود .  این بخش بصورت شبانه روزی دایر میباشد.  (شماره تماس : 31551326)
ویژگی های بخش تصویربرداری
تزریق داروهای حاجب برای CT اسکن و MRI و رادیوگرافی ها با حضور پزشک متخصص رادیولوژی انجام می شود .

بخش تصویر برداری دارای 2 ترالی مجهز برای استفاده در مواقع ضروری و یک اتاق ریکاوری با تجهیزات کامل مونیتورینگ برای استفاده در مواقع لازم از جمله بیهوشی بیماران می باشد .

در بخش تصویربرداری در شیفت های صبح و عصر و شب و یک نفر کارشناس بیهوشی در واحد MRI و یک نفر در واحد CT اسکن مسئول کال می باشد که در مواقع لازم و ضروری به بیماران نیازمند ارائه خدمت می نماید .

بخش تصویربرداری بیمارستان در حال حاضر دارای 7 نفر متخصص رادیولوژی می باشد .

در حال حاضر بخش تصویر برداری با داشتن 6 نفر کارشناس رادیولوژی خانم ، طرح انطباق را مورد توجه قرار داده و رعایت می نماید .